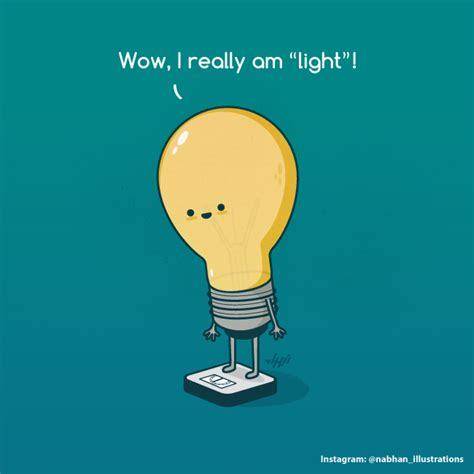 Starting out with a little pun which might give you an idea of what we will be talking about today (if the title didn't already give it away)
If you still aren't quite sure, we will be talking about LAMPS!! and if I do say so my self, Pedrali really lights the way when it comes to lamps. (There might be quite a good amount of light puns in this blog - I apologize in advance).
Here at Interra Designs, we noticed that the Pedrali lighting collection isn't quite getting the attention it deserves. They have some really great lamps, which seem to lose light compared to the table and chair collections.
So what we are doing today is shining a light on a few of these pretty amazing design pieces.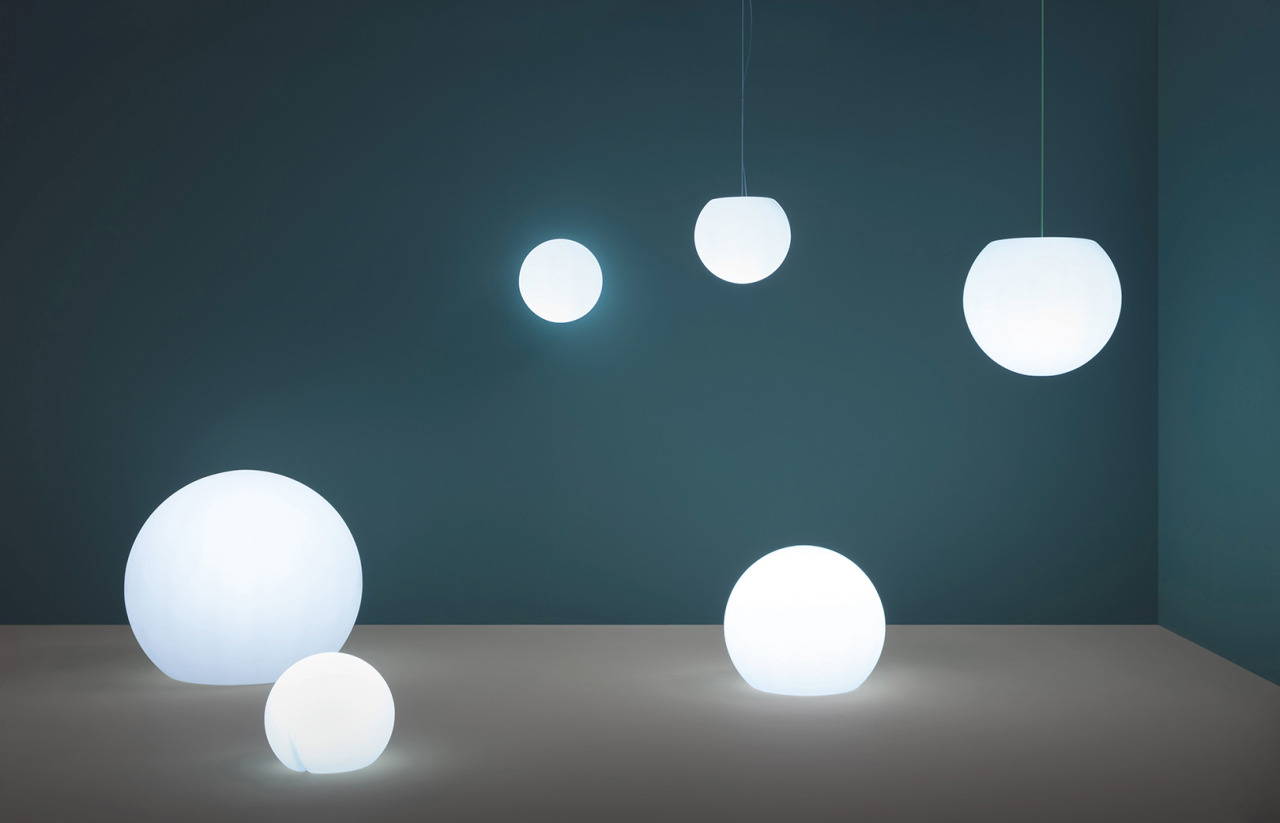 We are going to start out by introducing the 'Happy Apple', an amazing polypropylene orb. At first glance, this lamp seems pretty simple and a bit underwhelming… it's everything but. This lamp has a range of functionality and looks depending on what you do with it. Firstly, the lights can either sit on the floor or be hung from the ceiling (or wall), this is pretty cool if you want to switch between what the light is used for. Secondly, the size of these lights are what really allow them to be a showstopper - being either 20" (not too crazy, but a good standard size), 31" (okay we are getting somewhere) and 47" (try that on for size!!). Now, I know that not everyone wants a 47" light orb in their living room (even though that would be pretty cool) but fret not these lights are also rated for outdoors.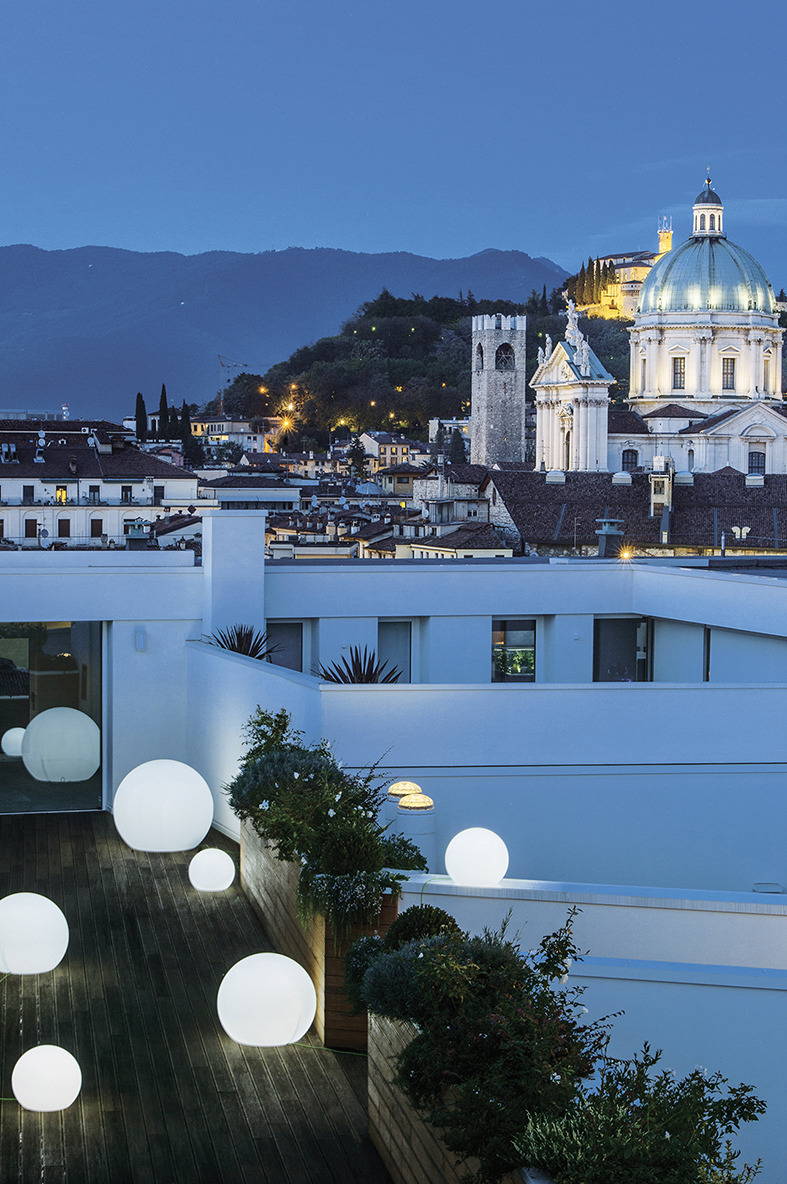 Just look at the magic this creates on a porch or in a garden - either the small size which provides a cozy atmosphere or the big one to create that 'wow' or combining sizes to tailor the look of your space!
The 'Happy Apple' truly brightens my day and my backyard!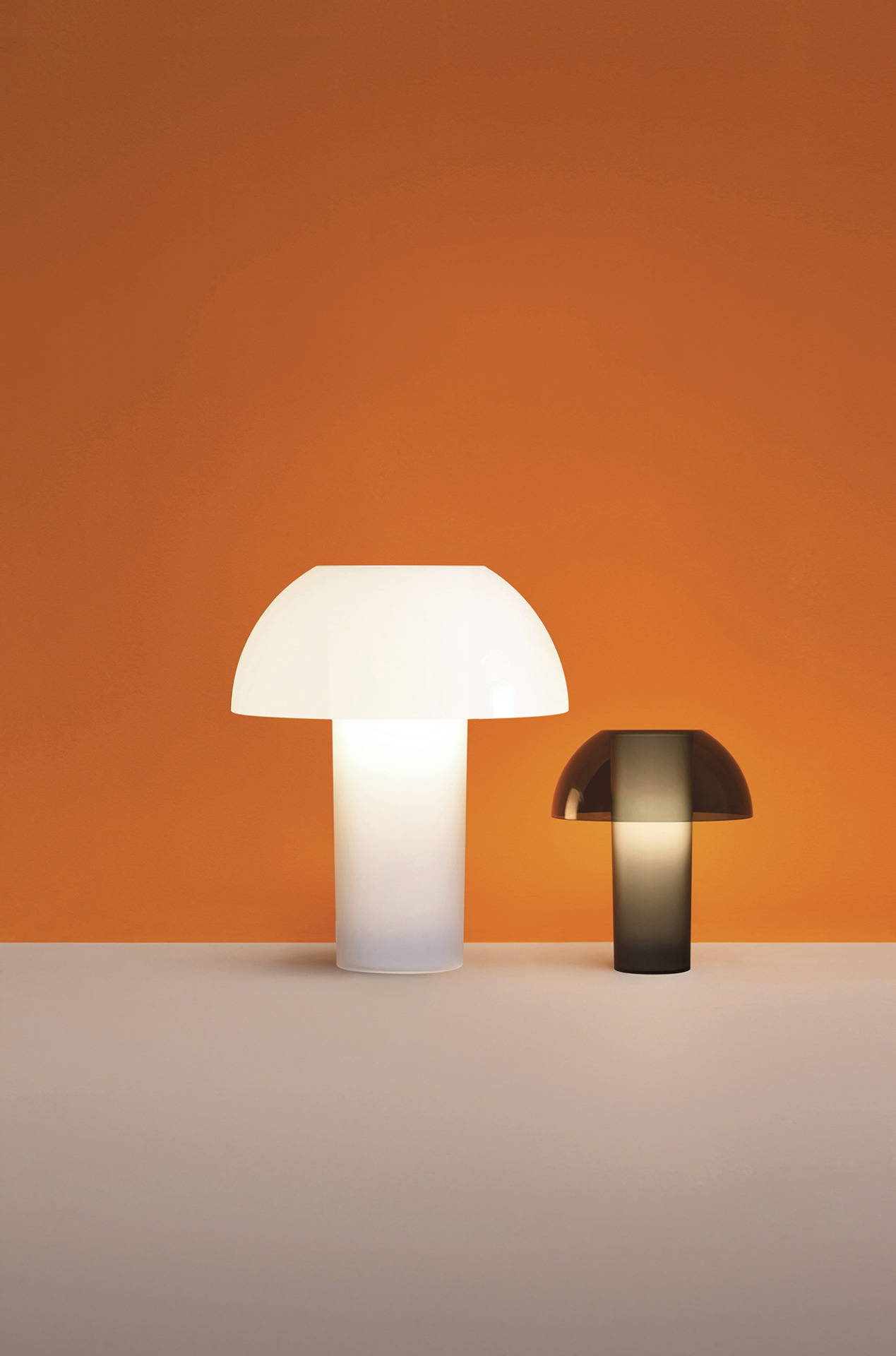 Next up, the slightly more modest 'Colette Lamp'. (Not that it isn't beautiful, it just doesn't measure 47"!
And speaking of size, The 'Colette Lamp' comes in two sizes; small measuring 12" or large measuring 20", which makes it a perfect lamp for the living room or a bedside table. The colors, which are red, blue, yellow, transparent, white and smoke, which lets the lamp stand out or blend in depending on what look you are going for.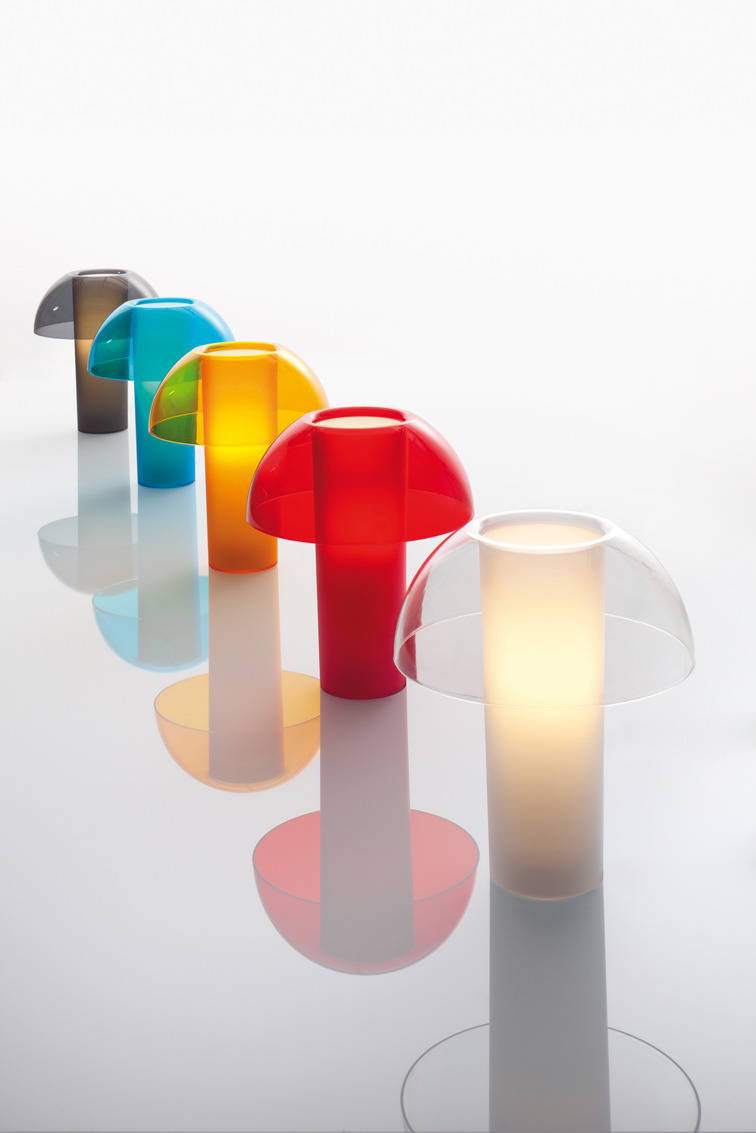 What I also really like about the 'Colette Lamp' is that even though it is made of polycarbonate it has a very high-end look and the opaqueness of the lampshade gives a certain lightness to the lamp.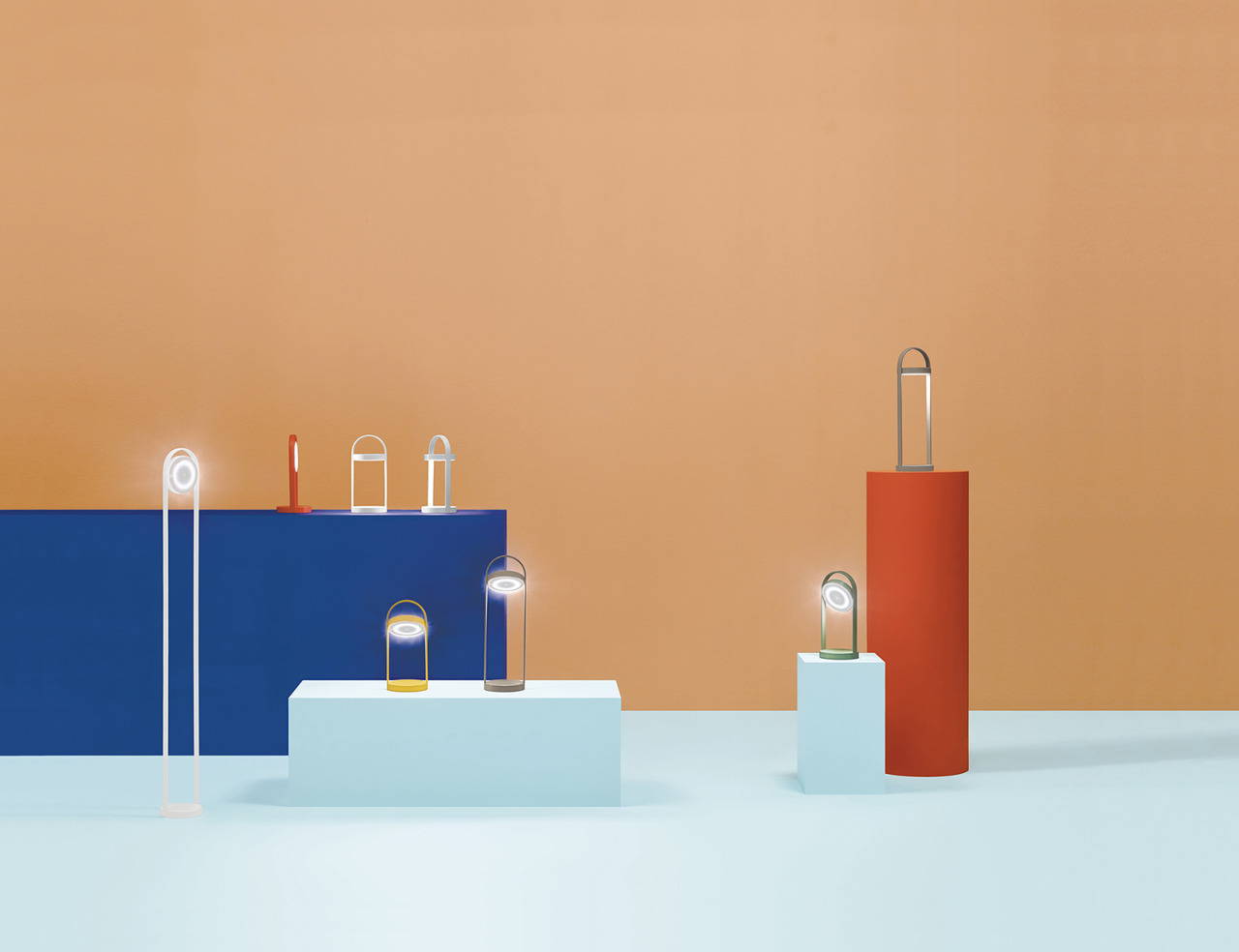 The 'Giravolta' was introduced in 2017 and is a modernization of the O.G lanterns. The 360º swiveling diffusers are what gives the name to these colorful little fellows, with giravolta meaning turn or twirl. This piece is easy to move around since it is wireless and can be used outdoors or indoors for 8 hours on a charge, and again, in the true Pedrali spirit, this lamp has quite a good amount of features. The 'Giravolta' even hangs horizontally when installed with a magnet in the base (the picture shows the sideways hanging feature - they are not just trying to be artsy), which is really cool.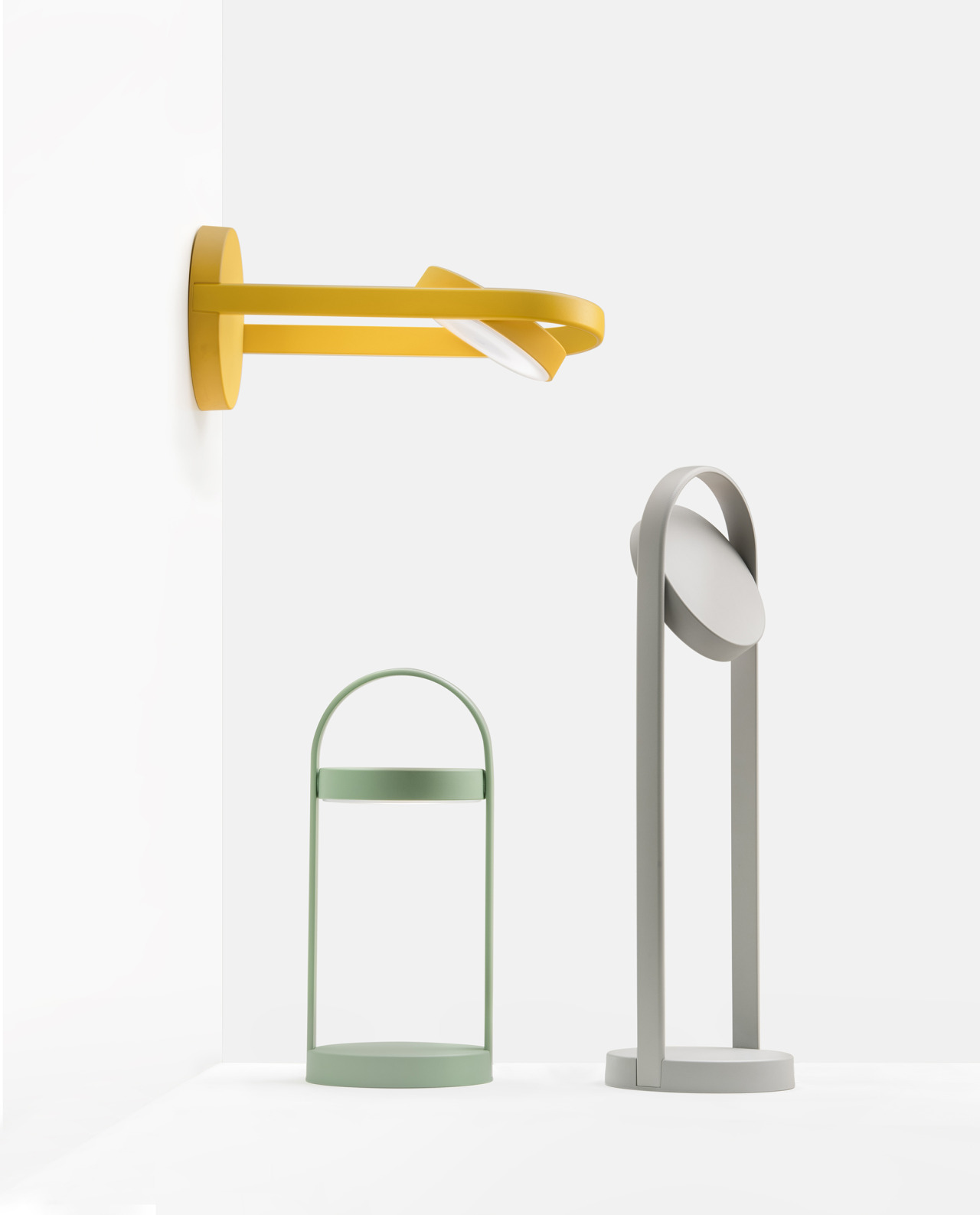 The Giravolta comes in a good amount of colors and in three different sizes (13", 20" and as a floor lamp measuring 55"), which makes it ideal for any place that needs different sizes as well as consistency.
'Giravolta' is available in white, black, grey, orange, yellow, green, beige and blush pink. Check out the many different colors on our website.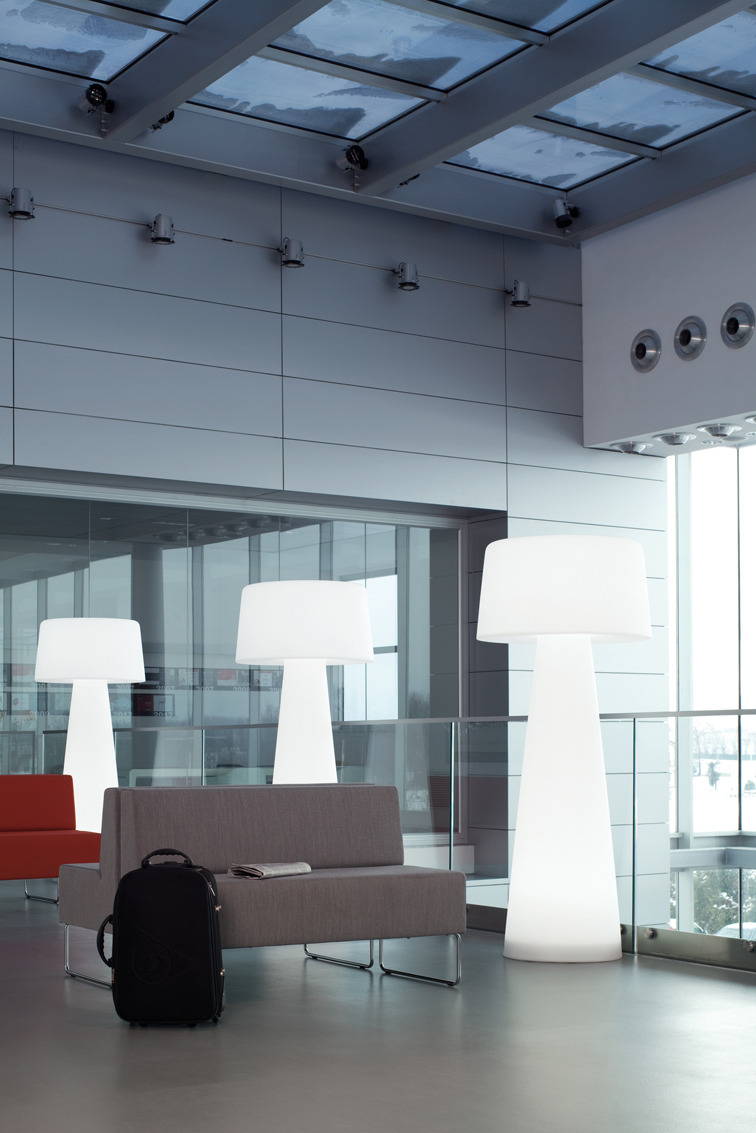 The 'Time Out' lamp is another statement piece from Pedrali, a 75" tall polyethylene floor lamp, which when lit, lights up almost all 75" of the lamp - it's pretty grand if I do say so myself. 'Time Out' only comes in white which makes sense due to the size and material, as other colors wouldn't shine through and also might be very dominant considering the size.
The time out is suitable for outdoors and its linear lines make it a great companion for the 'Happy Apple' and allow it to really lighten up the atmosphere.
The time out really fascinates with its simplicity of the design and also for the elegance of its lighting body.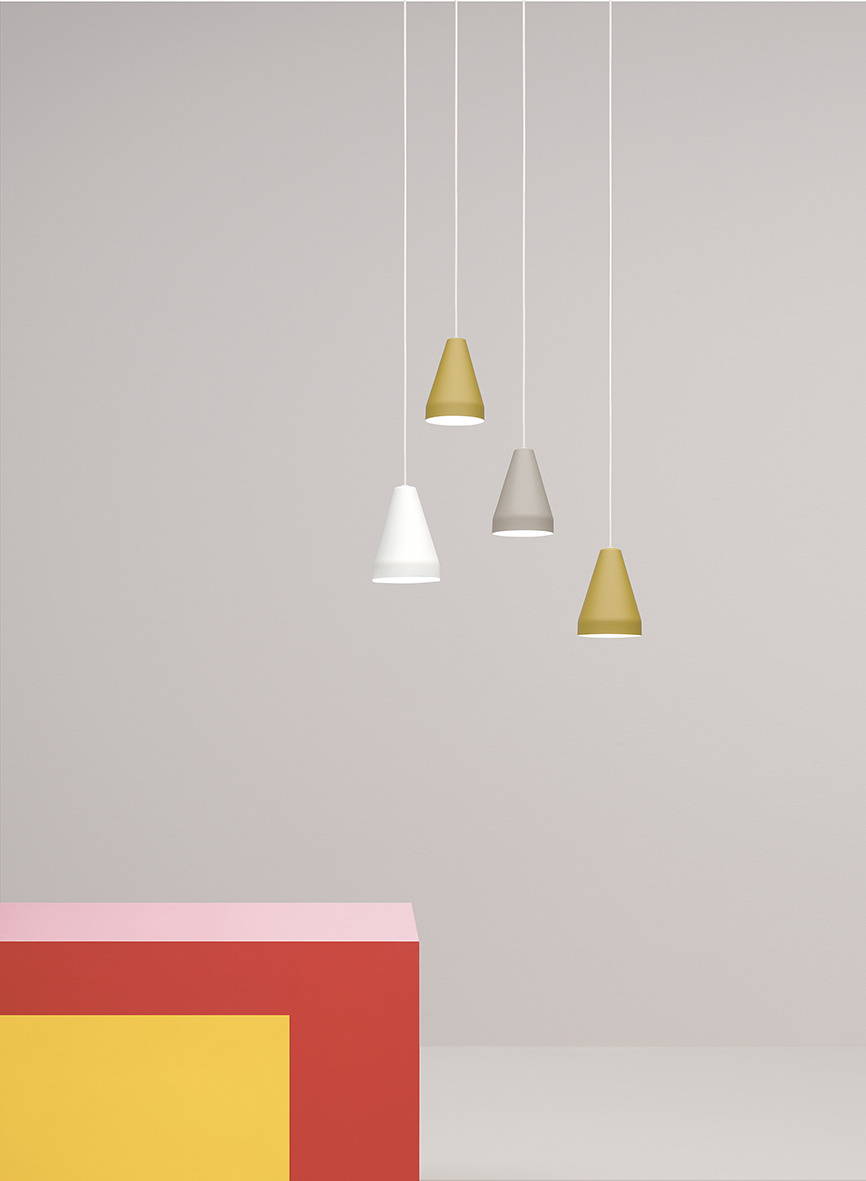 Lastly, Pedrali just introduced the Tamara lamp, a small soft, elusive, and yet angular hanging lamp is inspired by the headlights of an early twentieth-century car, paying tribute to Tamara De Lempicka (the iconic painter). It's has a beautiful simplicity to it, however unlike other pendant lamps, the Tamara focuses the light directly below, however, designers, Alberto Basaglia and Natalia Rota Nodari, decided to have a hole in the top of the diffuser allowing for a unique light to protrude from the top of the lamp. The Tamara is a unique take on an otherwise traditional design, which allows the Tamara to be completely it's own.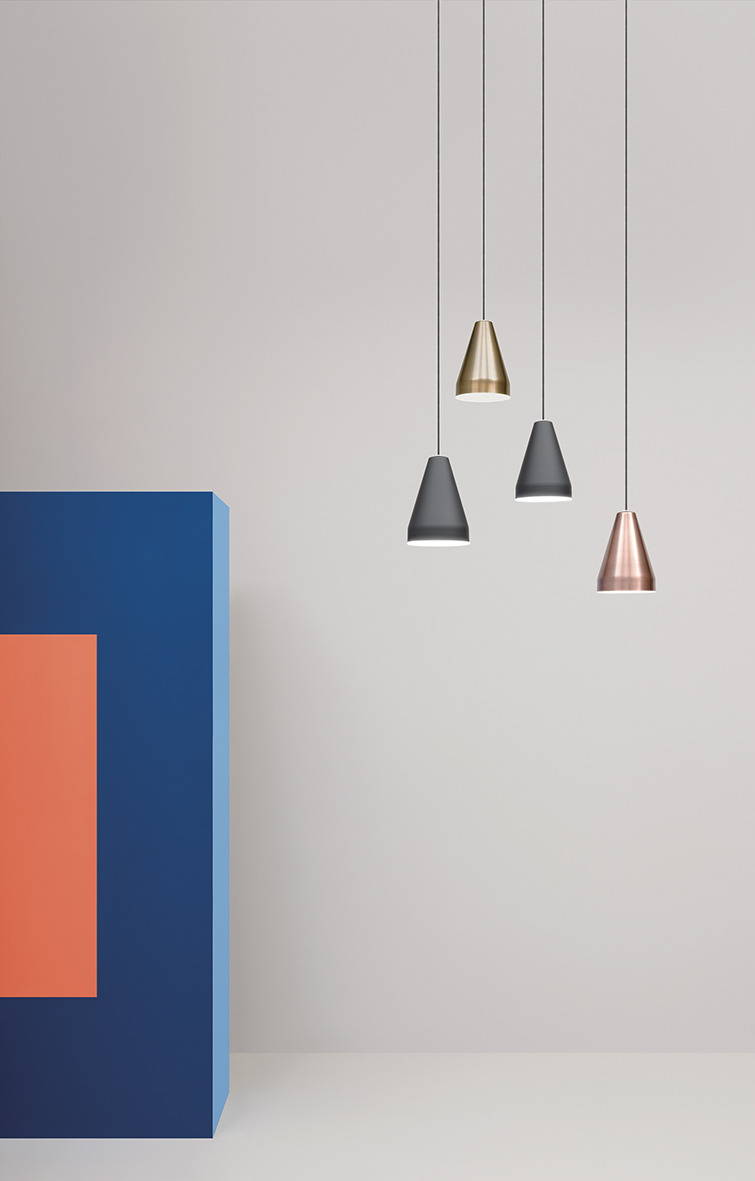 The Tamara is made from matte painted aluminum and is available in black, white, grey, yellow or burned orange and in shiny rose gold or gold.
Since this lamp is from the 2019 collection introduced a Salon del Mobile in Milan, they are not quite ready yet (in two weeks though, so the wait is really not that long), but we can't wait to show off this baby in our Laguna Beach showroom.
Pedrali has quite a collection of lamps to light up your life (I kind of fell of the pun wagon, so here is the last one to finish off), so I really recommend going to our website to check out the many different styles! The new To.Be light and the light up planters are definitely worth checking out too.
On the last note, don't forget to check out (and maybe even follow) our Instagram and Facebook, to keep up with the complete Pedrali line and our blog posts to get more detailed info on the different Pedrali pieces.
If you would like more info on any of the products mentioned in this post (or any other Pedrali product), we will be more than happy to help. You can get in touch with us here!
Catch you on the flip side! (Here is a little gif of sparkling lights to brighten your day)