Over the last couple of months, we have been working hard here at Interra, trying to refurnish a co-working space in Santa Barbara, to create a living showroom. We have been working with Impact Hub on Chapala street and State street in Santa Barbara and we can finally say that we are ready for the big vernissage (I know its not a gallery, but it is art so I'm hoping I can get by with it 🙌 ).
We wanted to ensure a combination of professionalism as well as a comfy, cozy vibe, creating a space for different work environment and workstyle needs.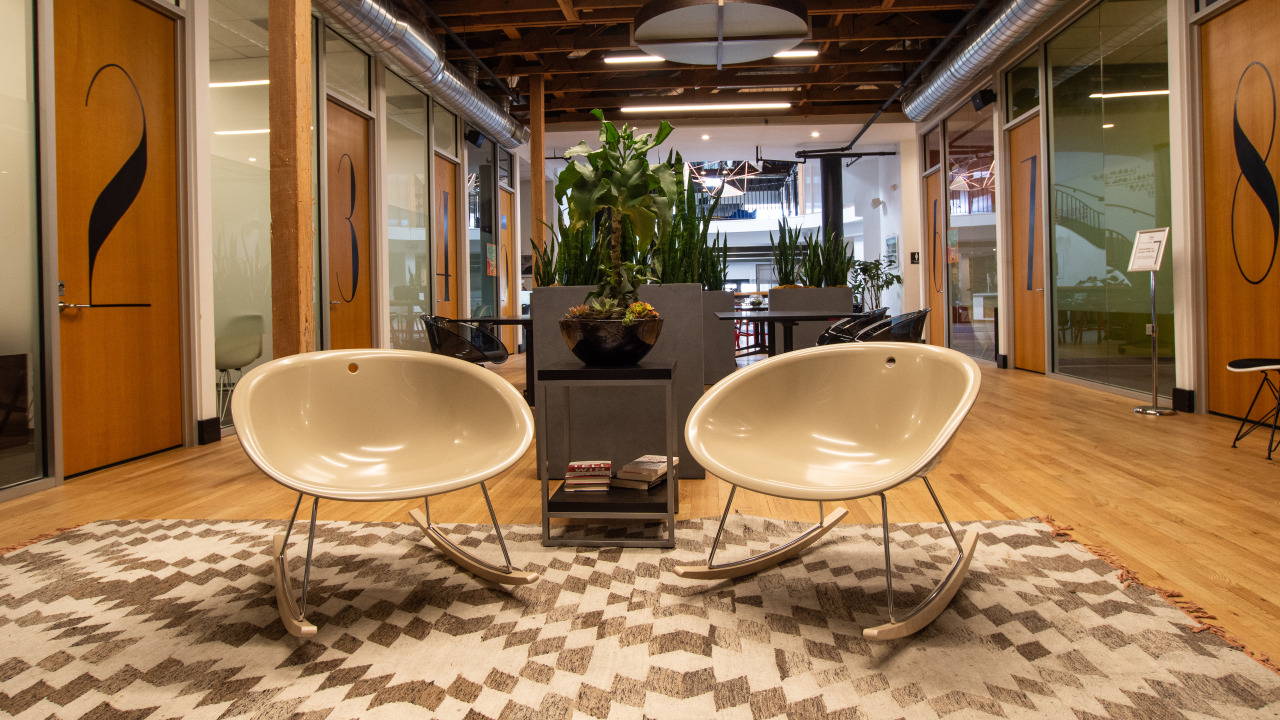 The 'Gliss' swing chair was a must. It is a big embracing rocking chair in technopolymer with an aluminum frame and ash wood sleds. The comfort is really hard to explain and the picture doesn't do it justice, however, Pedrali ensured that the rounding of the chair makes you glide right into it without having the feeling of falling out. Furthermore, the width of the shell allows you to have your feet up or even sit criss-cross-applesauce if that is what you prefer and it's all comfy. This makes it a perfect lounging chair for the common area between the private offices when you are waiting to get your room.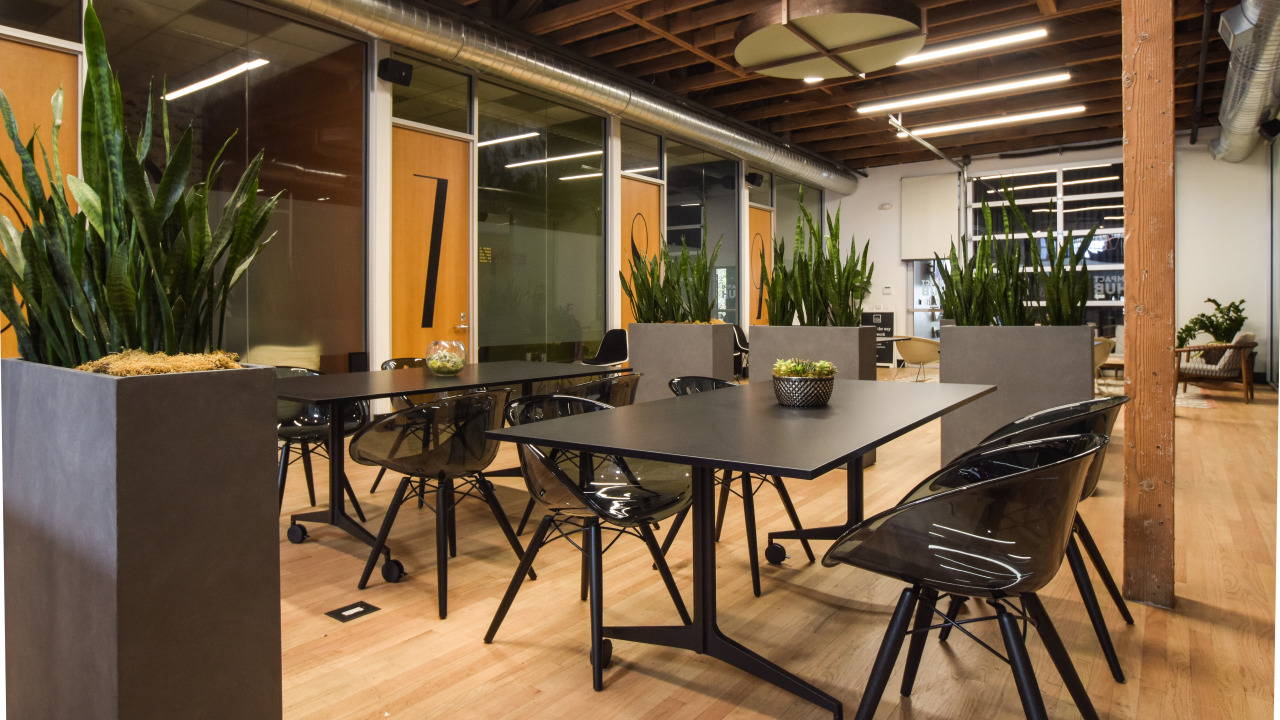 In the same area, we set up 'Ypsilon' folding tables with wheels and the dining room 'Gliss' chair, with the aim of connecting the lounge area with a work area. The 'Gliss' dining chair has the same comfort of the Gliss lounge rocking chair however not as wide which totally makes sense for a dining chair. The folding Ypsilon tables allowed the table to be easily and practically moved into any of the adjacent rooms if the needs for more table space. We really like the idea of a fluid space which allows for different setups depending on individual needs. Also, the tabletops are solid laminate which is fingerprint resistant; a pretty amazing feature when furnishing a common space.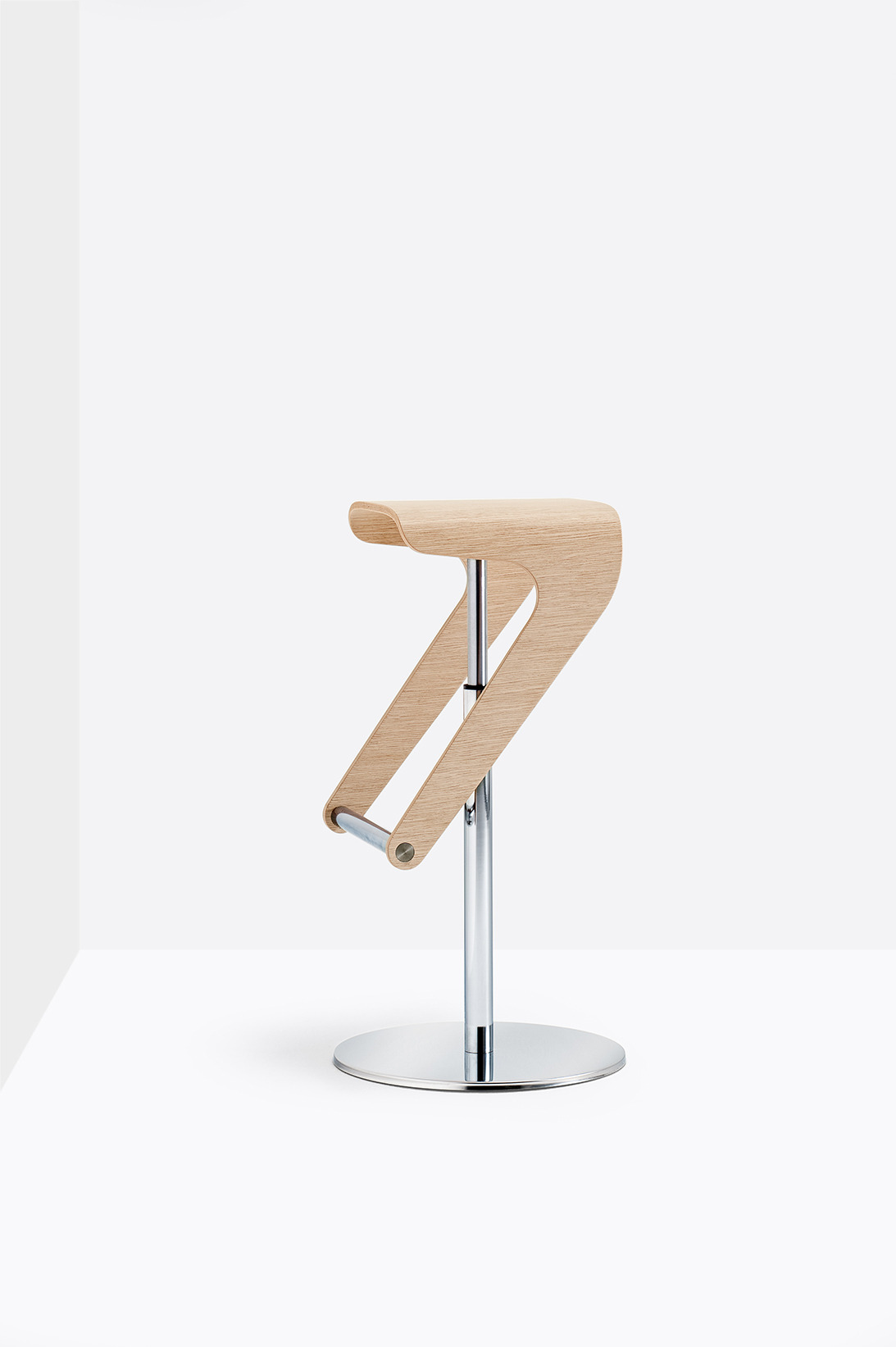 Another piece which is often overlooked in the Pedrali collection is the 'Woody' barstool.
This sleek simple barstool really stands out with impression. The fins protruding from the side of the seat connect to form a footrest.
We really wanted to combine the possibility of sitting and working at a bar, which we did with the 'Malmo' bar stool, but also create more flexibility through a swivel chair. The wood finish is the same in both barstools making them great companions in the common room at Impact Hub.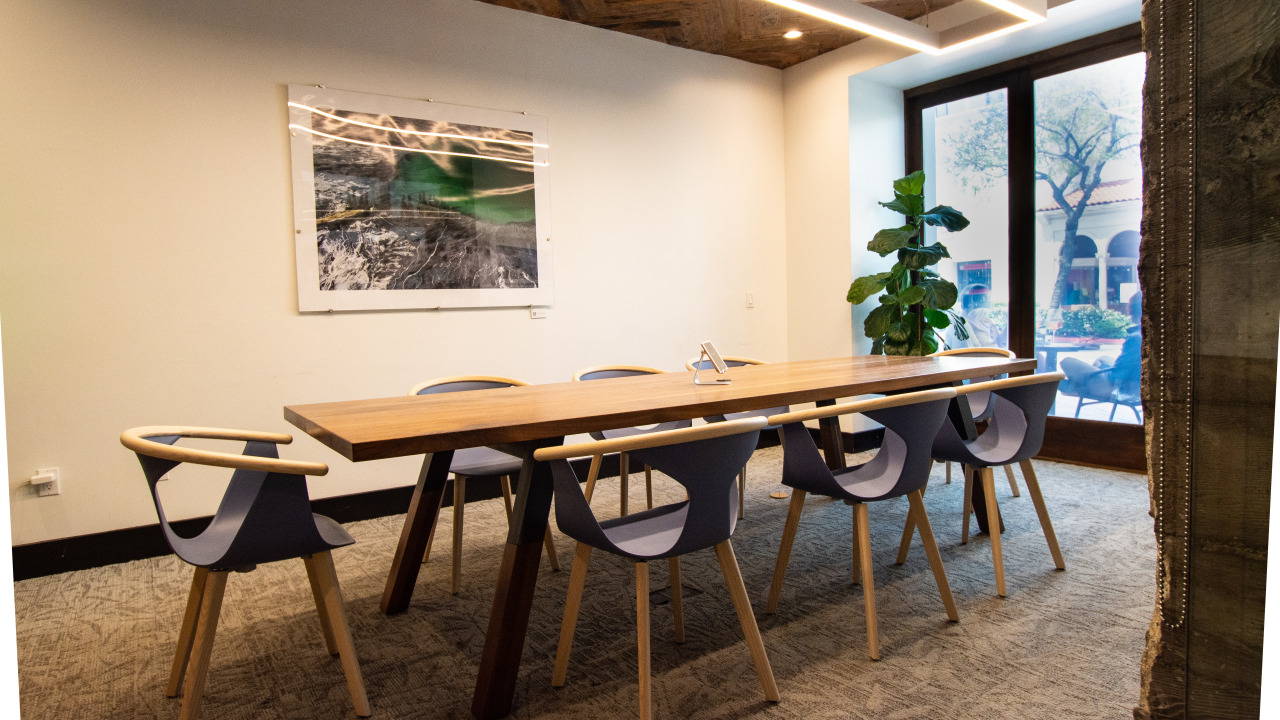 Every great co-working space needs to have an amazing looking conference room, and executive sleekness is something Pedrali knows all about. The wood rails on the 'Fox' chair recalls the beauty of classic woodwork. and combined with the playfulness in the seat the 'Fox' chair has a very unique expression. We decided to go with a blue seat shell which is a calming and very pleasant color; it brings a hint of fun to the room without dominating.
And lastly, at the risk of sounding like a broken record, this chair is super great to sit in, really comfy and ergonomically designed.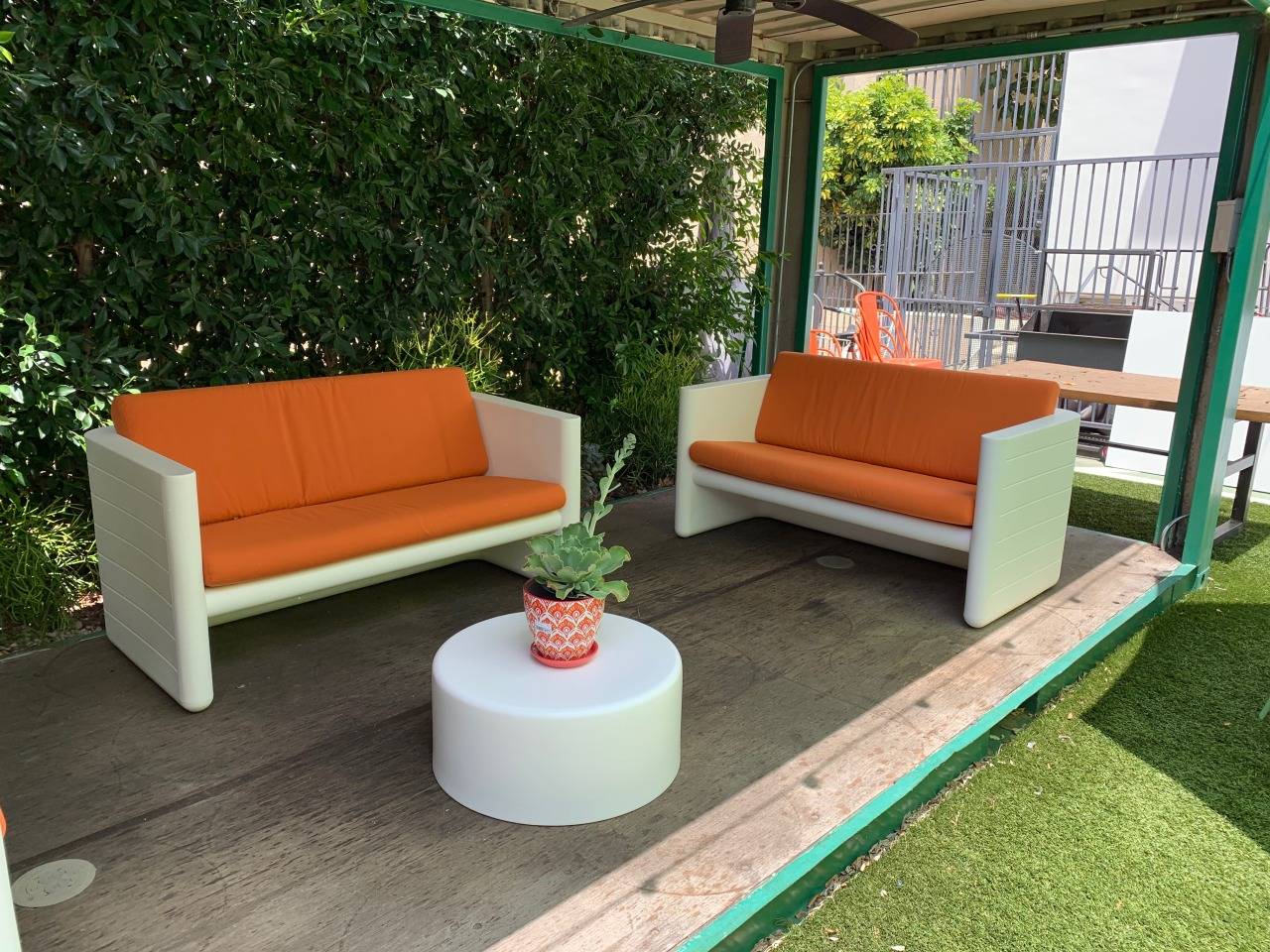 We also wanted to spruce up the outdoor section, which we did with the 'sunset' lounge set completed with outdoor cushions in a bright orange to compliment the other pieces in the yard. As the 'Sunset' lounge chairs and couches are pretty big they are ideal for a bigger space, where small dainty pieces might disappear. We combined it with a small 'WOW' table to get that cozy hang out vibe.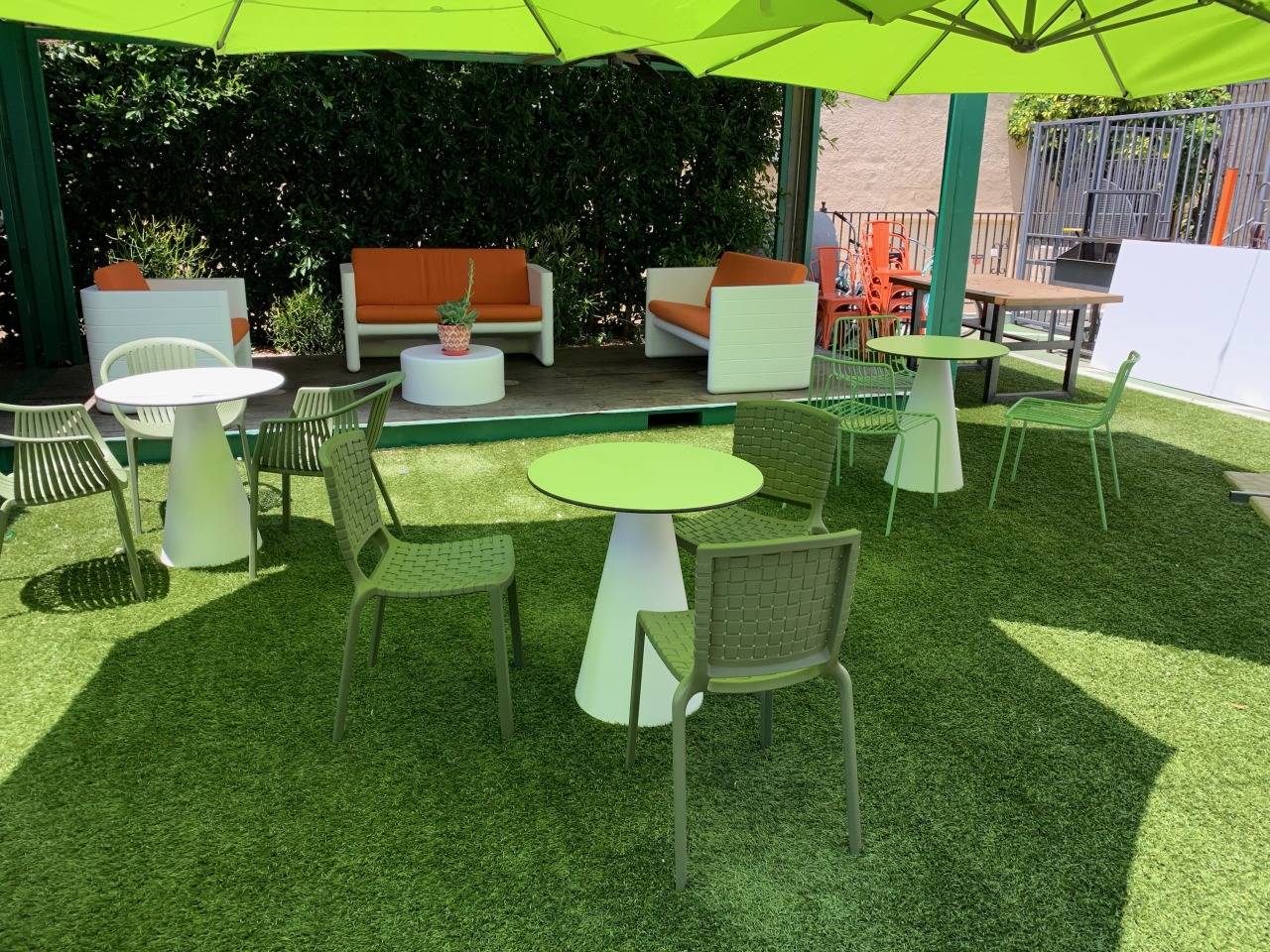 The other pieces in the back yard were kept in the same color schema; orange, white, Grey and different nuances of green. Because we wanted to showcase many different outdoor chairs we decided that it was important to streamline the outdoor area through color. We have the 'Nolita' (right), the 'Tatami' without arms (middle), the 'Tatami' with arms (left).
With all this in mind, if you live in or close to Santa Barbara or if you ever find yourself in that area, we really recommend doing your work at the co-working space Impact Hub. It really has a great vibe and something for everyone I respect to work environments and workstyle needs and now it is fully furnished with the most awesome Pedrali pieced.
Check out all the pieces on our website, where you can also request pricing.
Also, make sure to follow us on Facebook and Instagram to stay up to date with the latest and greatest from Interra Designs and Pedrali.
Don't forget we have a complete showroom in beautiful Laguna Beach, CA. Stop by and say hi - we have great furniture and delish coffee!
Tata for now!!
Disclaimer: No furniture was destroyed in the remodeling of these spaces. The furniture we decided to replace was all donated to a good cause.