"An animating and life-affirming coral hue with a golden undertone that energizes and enlivens with a softer edge."
Presenting the color of the year; living coral in combination with Pedrali.
This year is characterized by optimism and environmental sustainability, which are two words synonymous with Pedrali. Not only does Pedrali strive to be sustainable in everything they do, but they also do it with an air of ease and optimism.
Today, we are going to be looking at the color of the year to see some of the Pedrali amazing pieces, which really showcase the color.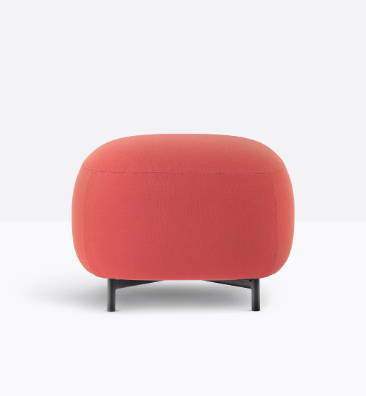 The Buddy family consists of poufs and chaise lounge's, designed by Busetti Garuti Redaelli, and with its soft lines and minimalistic and simple design, the Buddy really compliments any room. The buddy puff and chaise lounge come with or without a backrest, which makes it a very versatile piece.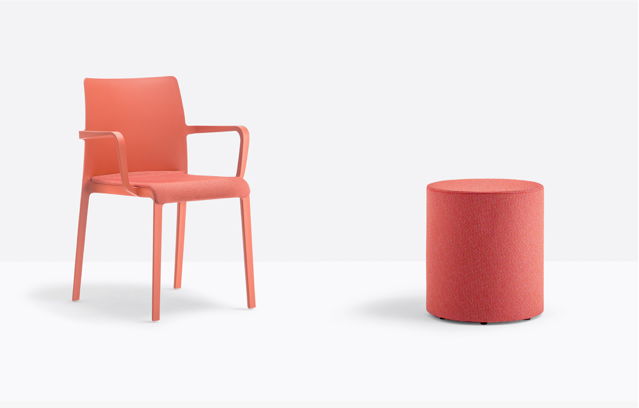 The Volt chairs and armchairs, designed by Claudio Dondoli and Marco Pocci, are like the Buddy collection a very versatile chair. the classic proportions make it a great chair for any space and with its fresh colors it can fit in, in a lot of different settings. We love the Volt chair due to its comfort and durability, which makes it perfect for high-intensity spaces.
The Volt is created for outdoors and Interra Designs offers a warranty of 5 years on color fading and any damages (this is actually the warranty on all our products - pretty awesome!!!).
The Wow puffs and stools are ideal for smaller spaces and offer a beautiful seating solution.
The Wow comes in round, square and rectangular shapes, which allows them to be mixed and matched. They also function perfectly as side tables, which like the Buddy collection makes it very versatile.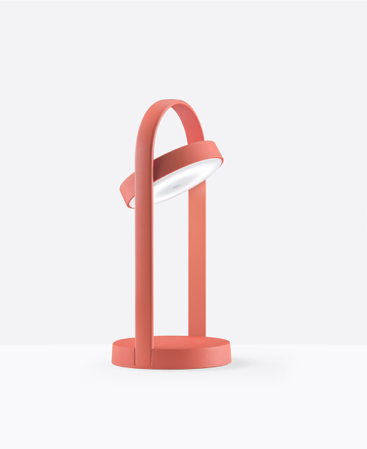 The Lively Coral doesn't just adorn the chairs and puffs, it also does wonders for the Giravolta lamp.
Characterized by a contemporary design, which is easy to carry around, this lamp is both wireless and rated for outdoors. The swiveling diffuser allows for a 360º turn and lets the user choose between a direct light or a softer atmospheric light. Oh and a charge lasts 8 hours, so you don't have to worry about it running out. For more info on the Giravolta Check out our previous blogpost "Pedrali lights the way with these 5 design pieces!".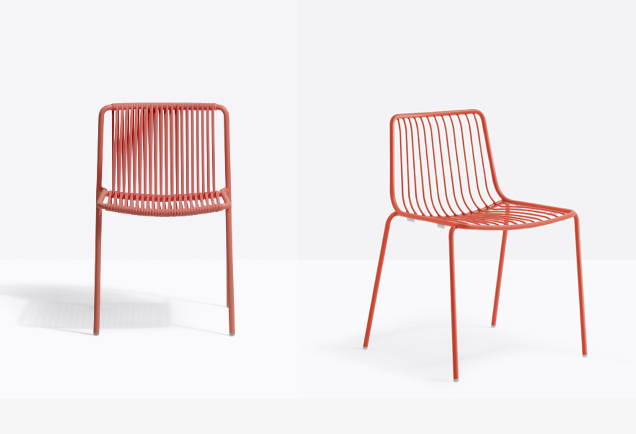 The Nolita (to the right) and the Tribeca (left) are both outdoor chairs, however, the Nolita has an air of the classic 70's garden furniture whereas the Tribeca is a modern take on this. The Tribeca has a steel frame and a handwoven seat, whereas the Nolita is all steel. They both light up any space with their playful look and their vibrant colors.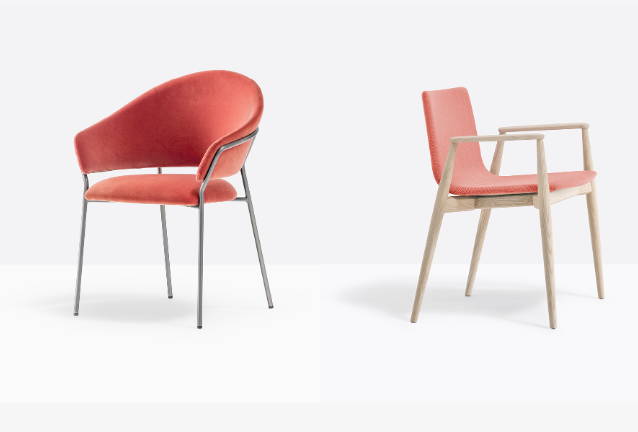 Lastly, we have two really amazing chairs, the Jazz chair (right) exudes style with is velvet-covered seat and backrest and titanium steel frame. The soft lines and embracing backrest gives the Jazz chair a welcoming feel.
The upholstered Malmo chair combined the natural beauty of the oak frame combined with the soft living coral, giving it a modern Scandinavian look. The Malmo communicates a feeling of calmness and domestic warmth, which makes it very unique.
This year we also see a lot of wood as a trend within furniture, which is the symbol of naturalness in furniture. Luckily, Pedrali knows how to design amazing wood furniture, not only is all their wood FSC branded (gotta love Pedrali's focus on sustainability), they also have a wide array of chairs in different kinds of wood. I will be presenting Pedrali's wood chairs in a month or so, so be sure to stay tunes.
If you have any questions or would like pricing on any of the above furniture, we would love to help you.
Visit our Interra Designs website, our Facebook or our Instagram.
Until next time!